While some trends come and go (we're looking at you, mesh), fur has stuck around. Over the years, icons from Marilyn Monroe to Madonna have embraced fur, and the luxe look is once more one of the Fall/Winter's biggest trends.
Hooded Mink Stroller with Russian Sable Fur Cuffs & Trim, exclusively from Marc Kaufman Furs in NYC
While Joan Crawford's performance in the 1945 film Mildred Pierce scored her an Academy Award, there's no question that the actress's fur coat also stole the show.
Natalie Wood wasn't nominated for an Oscar in 1966, but the actress dressed like a winner, wearing a sumptuous mink coat to the Academy Awards.
A super luxe full-length Ranch Mink Swing Fur Coat from Marc Kaufman Furs in New York City.
Of all the types of fur we love, mink is probably the most ingrained in popular culture and our collective psyche. This iconic fashion item, honored in countless Hollywood films, has retained its  status ever since the post-WWII boom.
A Timeless Classic —  Mahogany full length mink coat by Marc Kaufman Furs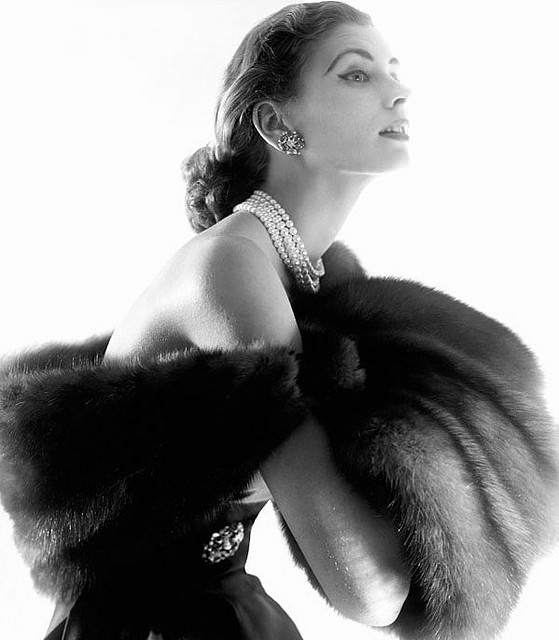 Years ago, that little touch of mink really played a significant role in expressing the American dream. As a successful man's gift to his lady, the mink coat was more than a garment  ­– it was a rite of passage crowning status in society (be it on Park Avenue or in suburbia).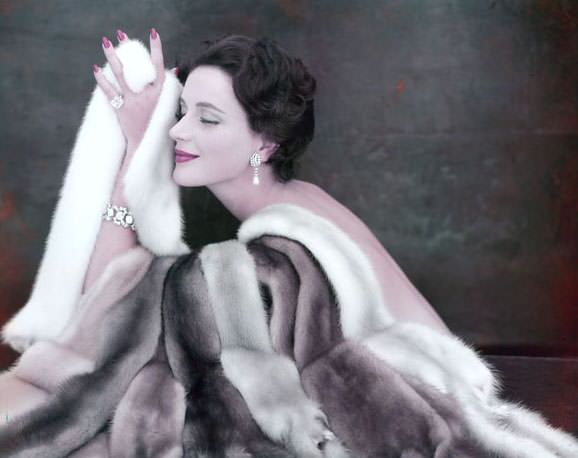 Today's mink is definitely not 'your great-grandmother's mink'. Farmed/ranched pelts can be nearly twice as large as the 'Mustela Vison' found in nature, and also come in a greater variety of natural colors (from pearl to sapphire to mahogany) and mutations (cross mink or jaguar mink, for example). Innovations in manufacturing and production allow for extraordinarily creative designs that are much lighter in weight, though still warm, luxurious and durable.
Hooded Ranch Mink Jacket from Marc Kaufman Furs' Collection
Brown Mink Long Jacket from Marc Kaufman Furs in New York City.
American Legend, NAFA, Kopenhagen Fur, SAGA and their respective producers are at the root of the phenomenon behind today's mink. Through highly developed veterinary science and natural selection, exceptional animal care and welfare standards, they  produce the highest quality mink used by today's top designers and manufacturers.
From coats to jackets to accessories, mink fur is overwhelmingly favored as the go-to fur of choice; its inherent beauty and versatility is favored across the globe. In the U.S., close to 75% of all fur sold is mink, whether long-haired or sheared.
These days, mink fur is definitely a much more egalitarian fashion material.   This fashion staple is most often used in its natural state, but also transformed to great effects –ranging from shearing the fur into velvet pelts or corduroy ribs, as well as dying or printing the hair or leather. It is, once again, definitely not your great-grandmother's coat anymore.
Recently, reversible mink garments are even becoming the norm for both male and female customers.  But always, mink retains its glamour, its elegance and its rich, luxurious appeal.
Check out this stunning sheared bleached mink hooded jacket with short sleeves from Marc Kaufman Furs
It can certainly be argued that mink is the go-to fur par excellence. It seems to always have been around, worn by grandma, the hipster gal next door, even worn in museum painting galleries… just go check it out for yourself.  Even sex kitten, Eartha Kitt sang about it, "Mink Schmink", so did 'bad ass' punk rocker Cristina's with "Don't Mutilate My Mink"! Then again, who would mess with her?
Brown mink stroller with turn back cuffs from Marc Kaufman Furs in New York City
In fact, to many people the word fur means mink. Just ask John Water's sidekick, Ms. Mink Stole… if only?  Why the fascination with mink?  Well, in practical terms, it is one of the most durable and versatile furs, one that is popular with both men and women.  It lends itself to a broad variety of technologically innovative effects including weaving, knitting, shearing, laser cutting and tip-dyeing, which makes it ever-so popular with designers.
Sheared black mink jacket with buttons from Marc Kaufman Furs
Also, since gaining its "It" status as the fur of choice with the post-WWII "upwardly mobile wives" to its position with the 1980′s "yuppie" gals, who would rush out to put their first mink coats on layaway, and even through its popularity today with designers and fashionistas around the world, mink has reigned supreme.
Two-tone mink coat from Marc Kaufman Furs' collection
The Ultimate Luxury Gift
Elizabeth Taylor epitomized Old Hollywood glamour and was often photographed swathed in fur. Rumor has it that she once walked into Bergdorf Goodman to order 200 pairs of mink earmuffs as holiday gifts.
Get the celebrity look
Step into Marc Kaufman Furs and try on a mink coat, mink vest, mink jacket, mink cape, mink scarf, mink stole or mink stroller today, or contact us about designing your own mink piece or reimagining an outdated piece, and we will custom make or remodel the garment to your specifications.
We have a beautiful collection of unique designer furs for rent at every price range. If you are interested in renting a fur, come in and see what kinds of furs we have in stock and what's available for fur rental in your size.
Hooded Whiskey-colored Sculptured Mink Jacket, now on Clearance from Marc Kaufman Furs NYC
For a limited time
— only $595 —
Marc Kaufman Furs NYC 
212 West 30th St
New York, NY 10001
1 (212) 563 3877
facebook.com/MarcKaufmanFursNYC
Follow us on twitter @marckaufmanfurs
E-mail: [email protected]
kaufmanfurs.com
Red Fox Fur Stroller with Belt & Hood, exclusively from Marc Kaufman Furs in NYC
Marc Kaufman Furs in New York City, NY ships your fur purchases and rentals to wherever you may be: Chicago, Illinois, Detroit, Michigan, Buffalo, New York, San Francisco, Los Angeles, California, Minnesota, Seattle, Washington, Philadelphia, Taos, New Mexico, Pennsylvania, Atlanta, Georgia, Portland, Oregon, Park City, Utah, Idaho, Vermont, Maine, New Hampshire, Wyoming, Montana, Aspen, Colorado, Missouri, Anchorage, Alaska, Moscow, Russia, London, UK, England, Seoul, South Korea, Geneva, Gstaad, Lausanne, Zurich, Switzerland, Germany, Paris, Chamonix, France, Austria, Italy, Dubai, UAE, Hong Kong, Beijing, Shanghai, China, Tokyo, Osaka, Japan, Toronto, Whistler, British Columbia, Quebec, Canada, Helsinki, Finland, Stockholm, Sweden, Copenhagen, Oslo, Norway, Melbourne, Sydney, Australia, Amsterdam, The Netherlands, Singapore; to all 50 States, and just about anywhere else in the World! With over 2000 quality furs to choose from, and the option to design your own, Marc Kaufman Furs of NYC has the most extensive online fur selection in the World.