Karen Klopp
Founder of What2WearWhere.com
Dark Green Plucked Beaver Jacket Buckled Sleeves and Belt
The temperature finally fell past freezing and far enough to find all the fab fashionistas and femme fatales frolicking in their furs at Mercedes Benz Fashion Week. Vests, coats, bags, hats and shoes — it was a virtual fur fest! The most paraded piece, both on and off the runway, is the ubiquitous fur vest. This fashionable fleece glamorizes any look from jeans and tee shirt, to pencil skirt and soft blouse, to a little black cocktail dress. And in fact, the chicest way to wear the versatile vest is over a sleeveless sheath, baring arms and sporting elbow or tea length gloves in black leather. This is a seriously fabulous look for those blessed with toned arms. For the rest of us, there are more than many ways to skin this look. What was once considered "Apres Ski" is now apres or avant anything! We have even been known to throw ours on over running gear for a brisk lap around the reservoir. Joanna Hillman, senior market editor at Harper's Bazaar owns this front row look at MB Fashion Week and on the right is one from GlamourpussNYC.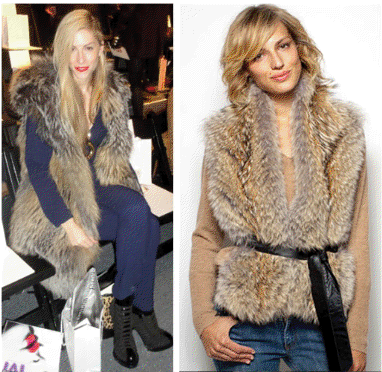 We have declared February to be Fur Month and why not? It is the best time to wear it and to shop it. Just after Valentine's Day there will be sensational sales and with our unseasonably warm winter, a splendid selection. We must say that the new furs don't look anything like the old ones. Side by side, can you see the difference? Hint, the one on the right is from the luscious Dennis Basso Collection Fall 2012, just on the runway.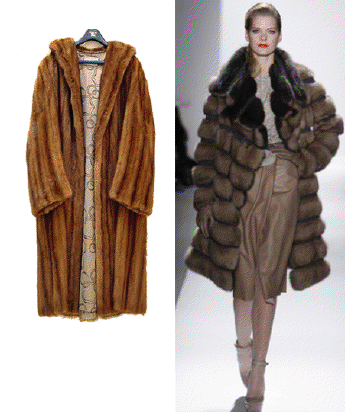 We understand that the precious pelts may not be everyone's PC choice, which is exactly why God invented faux fur. In fact the fauxs have gotten to be so gorgeous, it is sometimes hard to tell the difference. Noted designer Stella McCartney has a no animal policy, meaning that she doesn't use fur or leather and is committed to ethical fashion like the Maison Martin Margiela Faux Fur Shrug.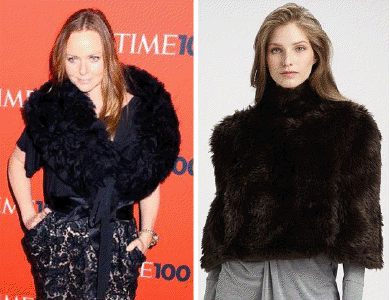 What is it that makes fur feel so good, and us feel so good in it? As fur is one of the oldest forms of clothing, perhaps it is a primordial urge to conquer the harshness of our surroundings. What began as a survival necessity has been transformed through centuries to a product of incomparable luxury, while the sense of well being inherent in the fur remains. So whether you are committed to fur or faux, you show your dominance by simply slipping on a skin. And that is the extraordinary power of fashion.
Since 1910 the Marc Kaufman Fur Family has been manufacturing fur coats and fur jackets in NYC , designing luxury furs, repairing luxury furs and altering along with providing cold fur storage and fur cleaning for fur stores and individuals. With over 100 years of fur expertise "Marc Kaufman Furs "A Name You Could Trust for All your Fur Needs".
Dyed Blue Silver Fox exclusively from Marc Kaufman Furs in NYC
"Experience Does Matter"
World renowned for our luxurious furs and craftsmanship, our fur coats are worn by socialites, celebrities, hip hop artists and just ordinary people that want to be warm and look beautiful. When you purchase a fur at Marc Kaufman Furs NY you know that you are getting a quality fur coat, backed by reliability, great customer care and service.
Marc Kaufman Furs in NYC has the most complete selection of the finest fashion fur coats: full length mink coats, mink strollers, mink jackets, fox coats, fox jackets, sable coats, and sable strollers. And for the softest in furs we have the finest Mink coats, Mink jackets, Chinchilla coats, Chinchilla jackets, Lynx coats, Lynx jackets, Sable coats, Sable Jackets and many other types of fur jackets and fur coats. A full range of fur colors including mahogany mink, black mink, and whiskey mink. All furs at very attractive prices. We can also customize a color to your individual taste.
Buying a Marc Kaufman Fur is the Perfect Luxury Gift to give your loved one. During Christmas,Your  Anniversary, a Birthday, Mothers Day or just saying I Love You, surprise them with The Best Gift Idea, a Marc Kaufman Fur.
Our Designer Furs come from different parts of the world. We have some of the most beautiful Italian designed fur coats,some French designed fur garments and some beautifully designed fur coats from our NY fur designers. I must say we have a beautiful fur collection.
Special Orders is our Specialty. We can take a collar from one fur coat, a sleeve treatment from another fur coat, a color from another fur coat, It's all your Choice.
Our New Russian Designer Fur Coat Collection is coming August 2012. We have developed, with the help of a Russian Fur designer, the most exciting  fur collection too be previewed this year. With over 50 furs styles to choose from, our designs will be unique and individual. Only one fur sample per style will be available for purchase.
Marc Kaufman Furs has a modern cold fur storage vault and a special fur cleaning facility all in NYC. This fur cleaning facility was designed to clean furs, clean leathers and clean shearlings. Special fur cleaning methods were passed down from 3 generations of Kaufmans.
Expert Fur Remodeling, we offer many designer styles that will modernize your older fur. Let us take your old and tired fur coat and make it look new again.Fur is no longer just for warmth on the coldest of days, furs has moved into the hot "must have" fashion category and is worn from day to night and across all seasons.
Purchasing a Marc Kaufman Fur is a perfect Luxury Gift for your Lady or for your Man. Every time they wear this Marc Kaufman Fur, they will feel the warmth and memory of their gift from you and the occasion that this gift was given.
Brown Sheared Mink Fur Coat, exclusively from Marc Kaufman Furs
Marc Kaufman Furs NYC NY 10001 212 563 3877
facebook.com/MarcKaufmanFursNYC
@marckaufmanfurs
E-mail: kaufmanfurs@aol.com
kaufmanfurs.com
Marc Kaufman Furs in New York City, NY ships your fur purchases and rentals to wherever you may be: Chicago, Illinois, Detroit, Michigan, Buffalo, New York, San Francisco, Los Angeles, California, Minnesota, Seattle, Washington, Philadelphia, Taos, New Mexico, Pennsylvania, Atlanta, Georgia, Portland, Oregon, Park City, Utah, Idaho, Vermont, Maine, New Hampshire, Wyoming, Montana, Aspen, Colorado, Missouri, Anchorage, Alaska, Moscow, Russia, London, UK, England, Seoul, South Korea, Geneva, Gstaad, Lausanne, Zurich, Switzerland, Germany, Paris, Chamonix, France, Austria, Italy, Dubai, UAE, Hong Kong, Beijing, Shanghai, China, Tokyo, Osaka, Japan, Toronto, Whistler, British Columbia, Quebec, Canada, Helsinki, Finland, Stockholm, Sweden, Copenhagen, Oslo, Norway, Melbourne, Sydney, Australia, Amsterdam, The Netherlands, Singapore; to all 50 States, and just about anywhere else in the World! With over 2000 quality furs to choose from, and the option to design your own, Marc Kaufman Furs of NYC has the most extensive online fur selection in the World.