There Is So. Much. Fur. On the Runway.
It was everywhere. Furs coats, sure, but also fur scarves, fur stoles, fur shirts, fur shoulder pads, fur vests. Fox fur was most prevalent, although some mink, and in the case of Marc Jacobs, skunk. Reviewers vomited a steady stream of glowing modifiers to flesh out the trend, some furs belonging to the "bohemian/rustic/artisanal" end of the spectrum, others deemed "high '70s glamour." Certain designers, like Michael Kors, have always used fur in their collections—but even brands like Suno, which had never gone down the fur route (and whose collection I fawned over here), featured a few mink-accented looks.
[Clockwise: Alexander Wang, Altuzarra, Cushnie et Ochs, Dennis Basso, Diane von Furstenberg, Michael Kors, Prabal Gurung, Suno, Wes Gordon, Zac Posen]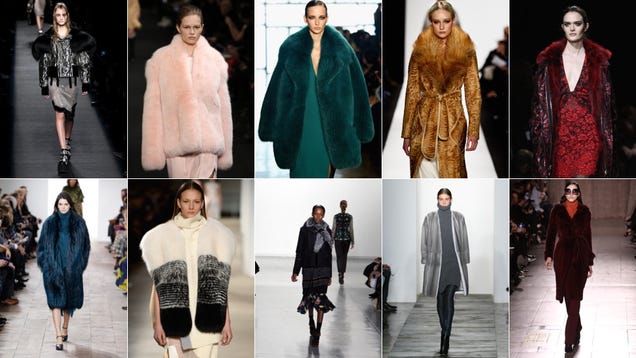 Some of these treatments are, admittedly, beautiful. Prabal's ombre fox fur gilet is chic as hell, and as Fashion Week traveled overseas to London, Roksanda (second to last, below) sent some stunning, otherworldly creations down the runway.
[From left: House of Holland, Matthew Williamson, Roksanda, Sass and Bide]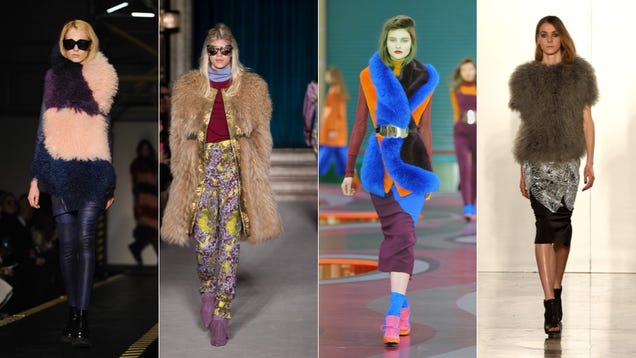 And in Milan, the fur parade continued. Some designers only showed one or two pieces; others, like Marni, were more heavy-handed.
[From left: Gucci, Marni, Philipp Plein, Emilio Pucci]
And we can't forget Fendi! The absolute glut of furs Lagerfeld sent down the runway at Fendi, including some fully hideous fur boots, is but a sampling of what's coming; the label will be presenting a "haute fourrure" show during Paris Couture week in July dedicated entirely to fur.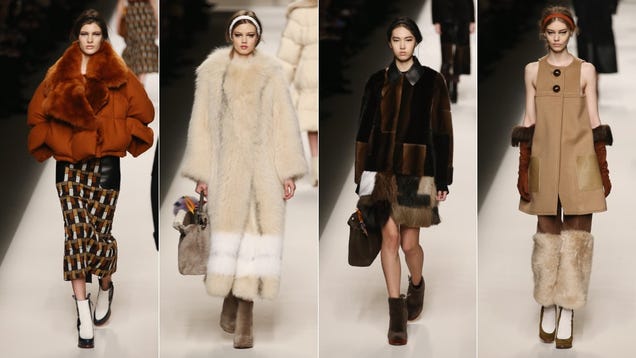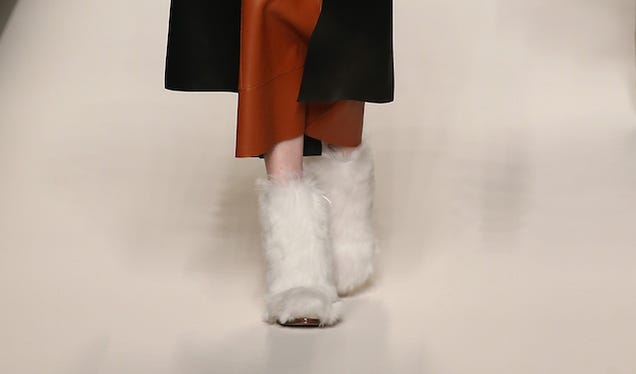 This is obscene furs as Fashion Month pushes on to Paris, it's something we should all be talking about. Faux fur is better than it's ever been, but it's still not ruling the runways. The fur trade is currently valued at over $40 billion dollars. Furriers, as the New York Times reported a few years ago, essentially bribe young designers into experimenting with their wares, forging career-long ties.According to the International Fur Federation, where such numbers can be found, China is currently the world's largest importer of fur, closely followed by North America, Europe and Russia. Between 2000 and 2010, fur sales rose 70%. Nobody in fashion appears to give a shit about PETA—and why would anyone considered a tastemaker pay attention to an organization known for campaigns like this?
We've been here before. Every once and a while, an article like the one I'm writing right now has attempted to question the fur frenzy, shaking its tiny proverbial fists against the giant fashion cog that transforms an ugly death into something clean and covetable.
But nothing really changes, despite the fact that designers like Stella McCartney have paved a gorgeous alternate path, and despite the fact that the inner workings of the fur industry are a fairly well-known phenomenon.
(In case a refresher is needed: A recent investigation found designers including Fendi and Alice & Olivia to be sourcing furs from a farm in China in which raccoon dogs and foxes were kept in piles of their own feces, electrocuted, and skinned alive. In Finland, where nearly four million foxes, polar foxes, minks, polecats and racoon dogs are raised and killed for their fur on farms, arctic foxes are typically kept in 8.6 square ft. wire cages (and minks in 2.7 sq. ft cages). An investigation into Finnish fur farms found frequent cases of open wounds, leg and ear injuries, cannibalism, lame animals, gum infections, dead animals left in cages with living animals, and more.)
The International Fur Federation, on the "Ethics" section of its own website, essentially waves its hand at the problem of animal cruelty, noting that "the main goal of many anti-fur groups is to deny other members of society the right to make their own individual choice."
Individual rights are cool. But there's no need to flex them by wearing a dead animal whose suffering has been rendered completely unnecessary by the highly imitable nature of its pelt.