Designer Men's and Ladies Shearling Coat and Jackets
Out of the fur pantheon, shearling is by far the oldest fashion trend that never falls out of favor. Don't think so? Just go check out prehistoric cave paintings with their references to animal pelts worn on human shapes, or even 19th century North American trappers donned in buck skins and other pelts.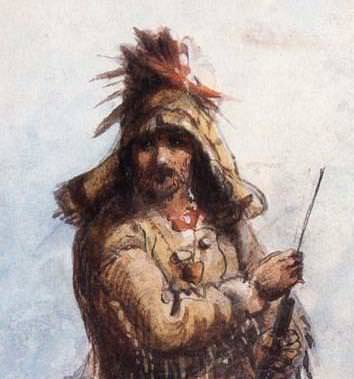 "Fur Trapper", Alfred Jacob Miller, 1837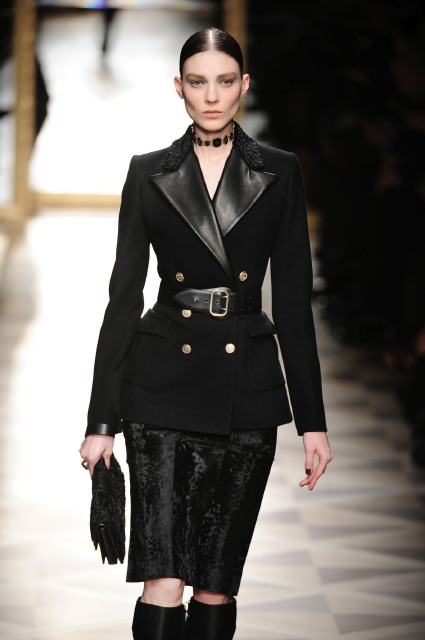 Salvatore Ferragamo – Fall 2012-Winter 2013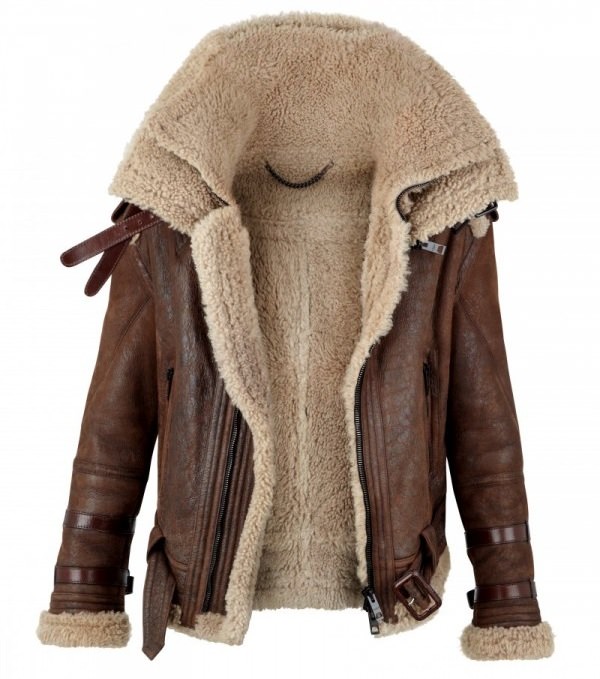 Burberry Prorsum Shearling Funnel Neck Aviator Jacket
Shearling might simply be the most democratic fur of all, the one type that defies generational differences and socio-economic divides. From "easy-going" to "hippy chic" to ultra-modern, shearling is making its mark on this fashion cycle.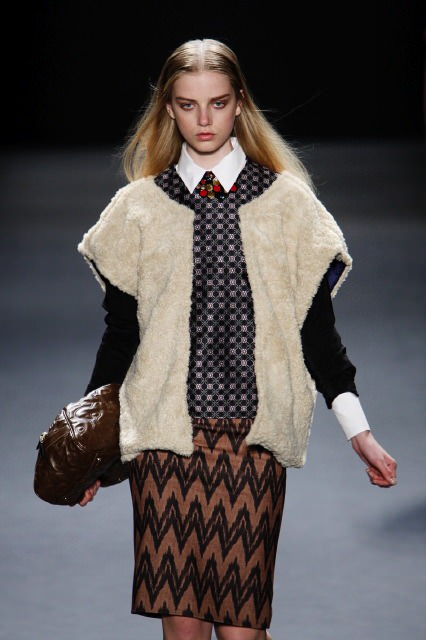 Vivienne Tam – Fall 2012-Winter 2013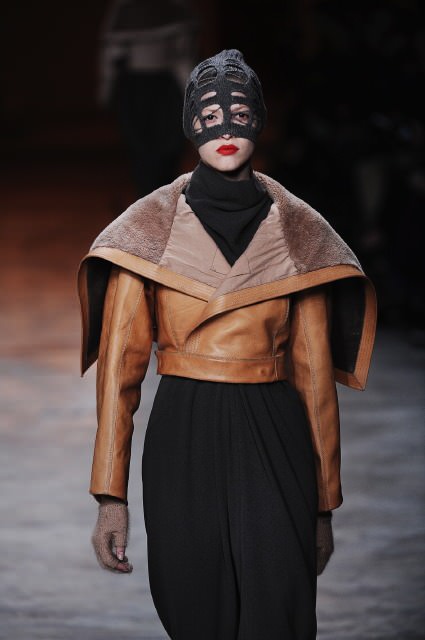 Rick Owens – Fall 2012-Winter 2013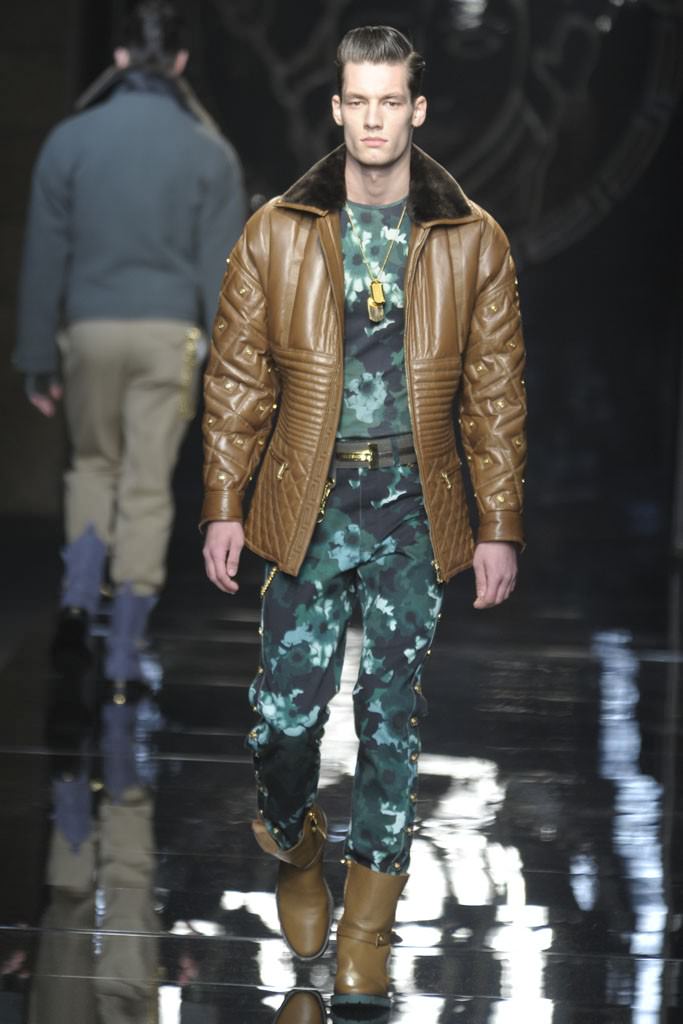 Versace – Fall 2012-Winter 2013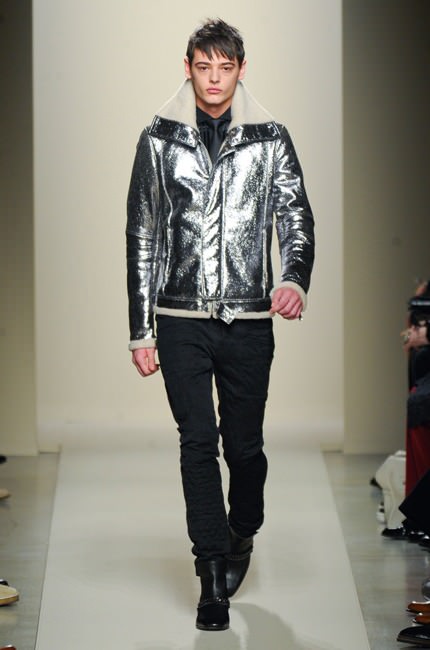 Bottega Veneta – Fall 2012-Winter 2013
Whereas shearling was often used in a cruder finish in 1970s fashion, recently it has gotten the glam reboot. Designers are currently toying with both the woolen side and the leather/sueded side of the skins to great effect on the runways.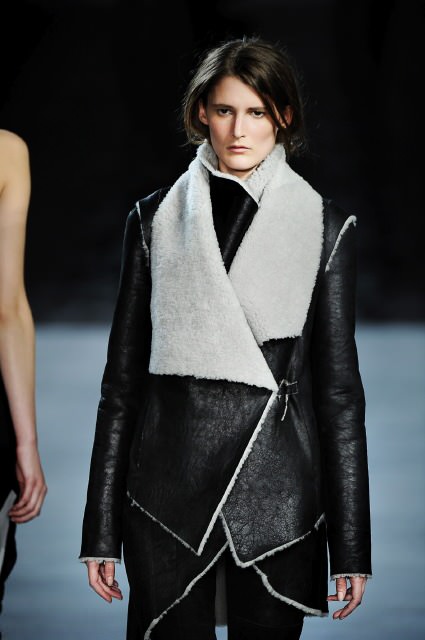 Helmut Lang – Fall 2012-Winter 2013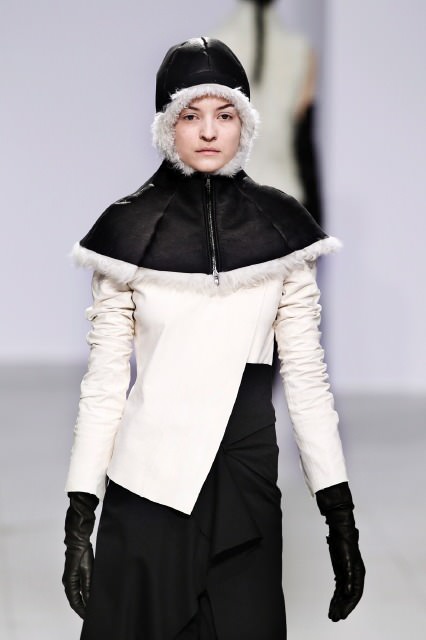 Peachoo Krejberg – Fall 2012-Winter 2013
The leather side of the pelt is currently reworked into a full-fledged design component, now getting as much attention as the fur side. Some designers and couturiers opt to lacquer the leather, or even shave it into a textile-thin finish. Others go as far as merging two skins in one garment – combining mink with lamb leather, for example, for a truly unique and highly fashionable look.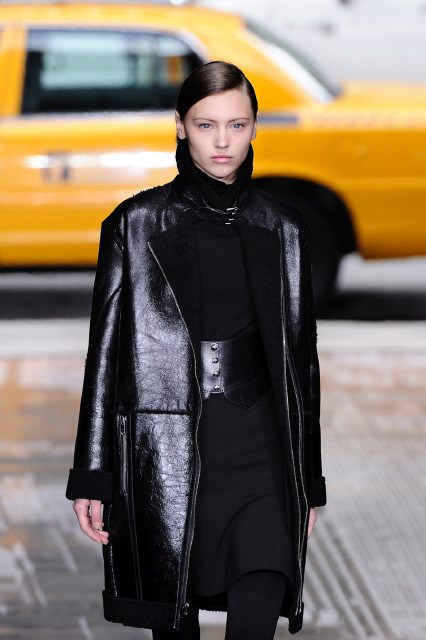 DKNY – Fall 2012-Winter 2013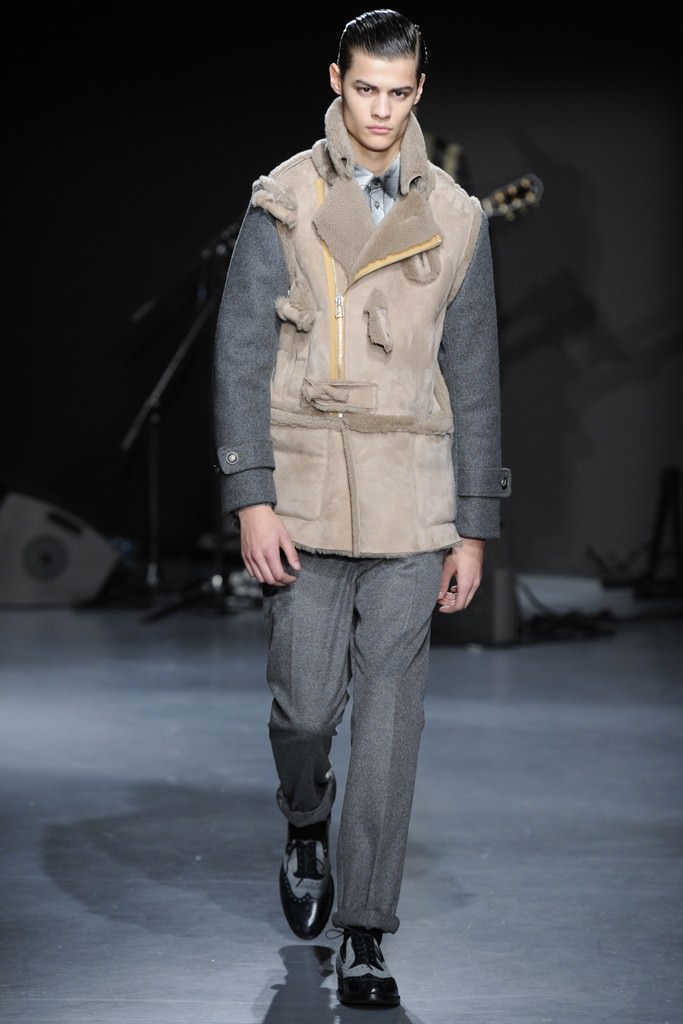 Miharayasuhiro – Fall 2012-Winter 2013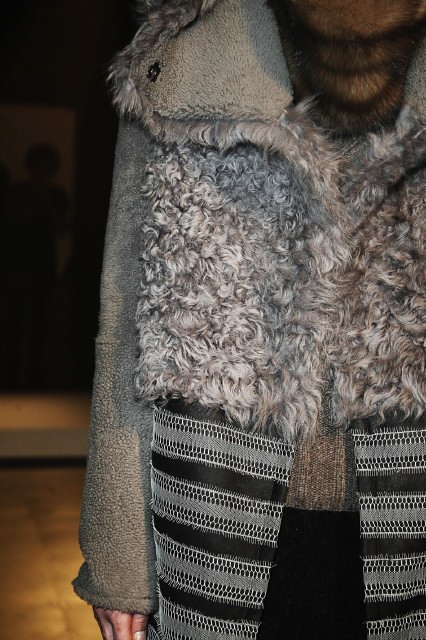 Brandon Sun – Fall 2012-Winter 2013
Ermenegildo Zegna – Fall 2012-Winter 2013
Jean Paul Gaultier – Fall 2012-Winter 2013
Best collection fashion shearlings for men and woman.
A beautiful Sheared Black Rex Rabbit Cape Jacket from Marc Kaufman Furs in New York's Garment District
Check out Marc Kaufman Furs' new collection of Russian sable coats, mink strollers, fox jackets, Canadian lynx jackets, American lynx jackets, knit mink capes, and chinchilla coats or create or design your own mink coats, fox coats, or any type of furs. We custom make fur garments to your specifications.
We have a beautiful collection of unique designer furs for rent at every price range. If you are interested in renting a fur, come in and see what kinds of furs we have in stock and what's available for fur rental in your size.
https://kaufmanfurs.com/gallery/index.php?cat=38
Joe Namath (shown here with Marc Kaufman) wearing his Marc Kaufman Furs custom coyote coat
Marc Kaufman Furs NYC 
212 West 30th St
New York, NY 10001
1 (212) 563 3877
facebook.com/MarcKaufmanFursNYC
Follow us on twitter @marckaufmanfurs
E-mail: [email protected]
kaufmanfurs.com
Red Fox Fur Stroller with Belt & Hood, exclusively from Marc Kaufman Furs in NYC
Marc Kaufman Furs in New York City, NY ships your fur purchases and rentals to wherever you may be: Chicago, Illinois, Detroit, Michigan, Buffalo, New York, San Francisco, Los Angeles, California, Minnesota, Seattle, Washington, Philadelphia, Taos, New Mexico, Pennsylvania, Atlanta, Georgia, Portland, Oregon, Park City, Utah, Idaho, Vermont, Maine, New Hampshire, Wyoming, Montana, Aspen, Colorado, Missouri, Anchorage, Alaska, Moscow, Russia, London, UK, England, Seoul, South Korea, Geneva, Gstaad, Lausanne, Zurich, Switzerland, Germany, Paris, Chamonix, France, Austria, Italy, Dubai, UAE, Hong Kong, Beijing, Shanghai, China, Tokyo, Osaka, Japan, Toronto, Whistler, British Columbia, Quebec, Canada, Helsinki, Finland, Stockholm, Sweden, Copenhagen, Oslo, Norway, Melbourne, Sydney, Australia, Amsterdam, The Netherlands, Singapore; to all 50 States, and just about anywhere else in the World! With over 2000 quality furs to choose from, and the option to design your own, Marc Kaufman Furs of NYC has the most extensive online fur selection in the World.