Light, airy, fluffy are words typically associated with soufflés and desserts more often than fur coats and jackets. But it is true that today's furs are substantially lighter than they were a generation ago and–even more so than a few decades back. That's where the vintage drawbacks kick-in.
Sapphire Mink Stroller from Marc Kaufman Furs
For his Spring '09 presentation for Revillon, Peter Dundas said his recent travels north piqued his taste for 1960′s Scandinavian design. "It just colored off on me," the designer explained. "I wanted something simple, essential, and upbeat—it's time to be sweet now." This translated into watercolor shades of lavender or green for constructed shift dresses punctuated with leaflike cutouts or flowers anchored with crystals, worn with a mink bolero or a jacket in knitted fox.
For vintage fashion aficionados, nothing feels and reads better than sporting something made in days gone by, appreciating all its period details down to the impeccable finish and overall look. For those who are not used to sporting vintage fashion, the weight can be a deterrent. That 1950s Pierre Cardin wool coat or 6os Chanel tweed jacket are, by today's standards, stiff and heavy (still, that is relative!).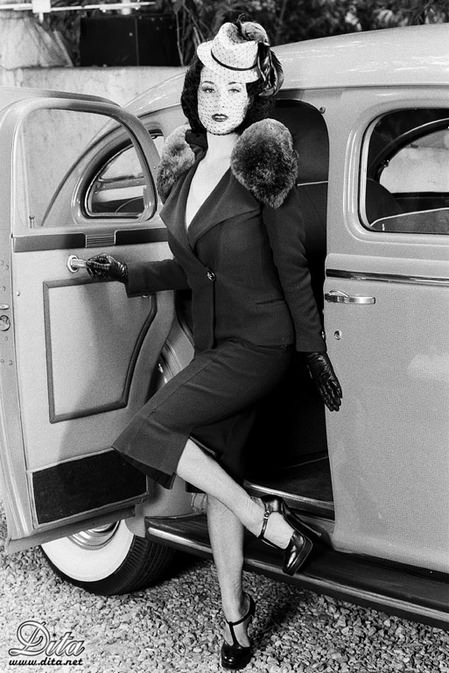 Dita Von Teese in a vintage 1940s ensemble
Carmen Dell'Orefice wearing Pierre Cardin, Paris 1957. Photo by Richard Avedon
Gabrielle "Coco" Chanel fitting a model, 1960s
Furriers of late have mastered the lightness touch with various treatments including thinning the leather side of the fur, sewing strips of fur onto textile shells and using laser cutting. To say that furs are now featherweight isn't that much of a stretch. From shearing to reversible furs to fur textile applications, what is currently being offered is so light in weight and bulk it is nothing short of incredible.
Anna Dello Russo taking her Fendi fur out for a stroll
Weiku's Laser Cutting and Splitting Machine for Leather and Fur
Alexander McQueen – Fall 2012-Winter 2013
Fur Laser Cutting Machine
Jean Paul Gaultier- Fall 2012-Winter 2013
Like with anything luxury based, taking the plunge shouldn't break the bank, hence, pre-owned (previously enjoyed, second-hand) might be the best and wisest way to go. That said, trying on a few of these new featherweight pieces might simply seal the deal for a new fur purchase.
Roberto Cavalli – Fall 2012-Winter 2013
Dennis Basso – Fall 2012-Winter 2013
Burberry – Fall 2012-Winter 2013 (White fox and white mink trimmed sweater)
Gucci – Fall 2012-Winter 2013
Paco Rabanne – Fall 2012-Winter 2013
We have a beautiful collection of unique designer furs for rent at every price range. If you are interested in renting a fur, come in and see what kinds of furs we have in stock and what's available for fur rental in your size.
https://kaufmanfurs.com/gallery/index.php?cat=36
facebook.com/MarcKaufmanFursNYC
@marckaufmanfurs
Red Fox Fur Stroller with Belt & Hood, exclusively from Marc Kaufman Furs in NYC
Marc Kaufman Furs in New York City, NY ships your fur purchases and rentals to wherever you may be: Chicago, Illinois, Detroit, Michigan, Buffalo, New York, San Francisco, Los Angeles, California, Minnesota, Seattle, Washington, Philadelphia, Taos, New Mexico, Pennsylvania, Atlanta, Georgia, Portland, Oregon, Park City, Utah, Idaho, Vermont, Maine, New Hampshire, Wyoming, Montana, Aspen, Colorado, Missouri, Anchorage, Alaska, Moscow, Russia, London, UK, England, Seoul, South Korea, Geneva, Gstaad, Lausanne, Zurich, Switzerland, Germany, Paris, Chamonix, France, Austria, Italy, Dubai, UAE, Hong Kong, Beijing, Shanghai, China, Tokyo, Osaka, Japan, Toronto, Whistler, British Columbia, Quebec, Canada, Helsinki, Finland, Stockholm, Sweden, Copenhagen, Oslo, Norway, Melbourne, Sydney, Australia, Amsterdam, The Netherlands, Singapore; to all 50 States, and just about anywhere else in the World! With over 2000 quality furs to choose from, and the option to design your own, Marc Kaufman Furs of NYC has the most extensive online fur selection in the World.